Skip to Main Content
It looks like you're using Internet Explorer 11 or older. This website works best with modern browsers such as the latest versions of Chrome, Firefox, Safari, and Edge. If you continue with this browser, you may see unexpected results.
What are Open Educational Resources?
"OER are teaching, learning, and research resources that reside in the public domain or have been released under an intellectual property license that permits their free use and re-purposing by others. Open educational resources include full courses, course materials, modules, textbooks, streaming videos, tests, software, and any other tools, materials, or techniques used to support access to knowledge." [1]
The Open Education movement is built around the 5Rs of Open Content [2]
Retain - the right to make, own, and control copies of the content
Reuse - the right to use the content in a wide range of ways
Revise - the right to adapt, adjust, modify, or alter the content itself
Remix - the right to combine the original or revised content with other open content to create something new
Redistribute - the right to share copies of the original content, your revisions, or your remixes with others
The OER's
This work is licensed under a
Creative Commons Attribution 4.0 International License
.
This video is licensed CC-BY and should be attributed to "intheacademia"
Textbook Prices Cause Students to Opt Out
Surveys show that 65% of students do not purchase course required textbooks because of the expense. They also show that 94% of those students who forgo purchasing a textbook are concerned that doing so would hurt their grade in the course. [1]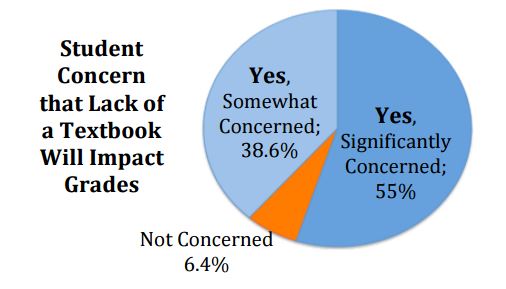 Too frequently, students feel forced to choose between not purchasing textbooks (presumably resulting in less learning) or taking fewer classes (resulting in slower time to graduation) in order to manage or reduce college costs. Data has shown that students using OER enroll in a significantly higher number of credits that students who do not. [2]
References
Assumption College. (2017). Open educational resources. In Open Access & Scholarly Communication (LibGuide). Retrieved from http://assumption.libguides.com/c.php?g=357974&p=2417107